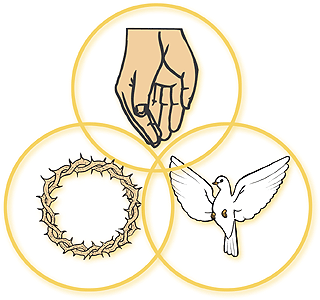 CREATOR SAVIOR SPIRIT
Holy Trinity, Father, Son and Holy Spirit, please hold me close and never let me go.
You created me.
You died on the cross to save me.
You are with me always, loving me, and asking only for my love and goodness in return.
I have faith in all You have taught me.
I have hope in all You have promised me.
I have love for You and for all the people
and creatures You have sent into my life
upon the earth.
Guide me, God, and I will try always to stay
on the upward path, the high road,
the way to heaven and to eternal union
with You and all Your saints.
I pray for endurance, for strength, for holiness and fortitude.
I pray for my family.
I pray for all my relatives.
I pray for every person who has come
into my life here on earth, or who will come into my life in the future.

I pray, dear God, for every person
ever created and ever to be created.
Forgive us all, for we know not what we do.
We are frail. We fall. We fail.
Help us all to live the good lives
of which we are so capable of living.
Please, my God, admit me finally one day
to the company of all your saints
in paradise forever and forever!
All this I pray to You God, my Creator,
to You, Jesus my Savior, and to You,
Holy Spirit, my Guide and my Companion,
in the Mystery of the Unity
of the Holy Trinity,
Three Persons in One God, Who always were, Who are, and Who will always be forever.
Amen


Image Ownership Credits
Next Prayer
Prayer Index
Website Home
(c) 2013 Donn B. Murphy
Contact - Comment - Question? - dbm@nowstar.net