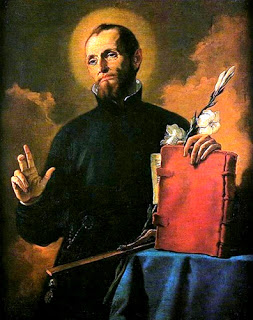 JOB SEEKERS' PRAYER to SAINT CAJETAN
Good Saint Cajetan, son of Count Gaspar
of Thiene and his pious wife, Maria Porto,
I understand that you have been deemed
the patron of those seeking employment.
I know that as a diplomat you were largely responsible for a peaceful reconciliation between the warring Republic of Venice
and the City of Rome, and that you then became a busy diplomat at Rome
in the 1500'S.

As a priest you are said to have worked assiduously to see enacted much needed reforms in the clergy of Venice.
Now in tribute to your productive life,
you are revered as the patron saint of those seeking employment.
I ask you to be my good advocate.
I hope to be as productive in my work
as you were in yours 500 hundred years ago.
Please present to Our Lord my petition
for a job. Seek for me the courage, confidence, vigor, energy, optimism, persistence, and hope to pursue appropriate and rewarding remunerative employment.
Please help me to succeed in finding work that makes the very best use of my talents, my work history, and my particular background and skills.
All this I pray to you with confidence
and hope, good Saint Cajetan.
Amen

Image Ownership Details
Next Prayer
Prayer Index
Website Home
(c) 2012 Donn B. Murphy
Contact - Comment - Question? - dbm@nowstar.net