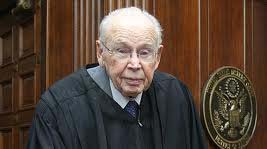 JUDGE BROWN
Judge Wesley Brown (1907 – 2012) was appointed
by President Kennedy, as U.S. District Court Judge
in Wichita, Kansas. At the time of his, he was both
the longest serving federal judge and the oldest federal judge still hearing cases in the history
of the United States.

"I will quit this job," he said, "when I think
I can do so and leave the country in better shape because I have been a part of it." Brown went to work at age 10, to support his family, and worked
for 95 years.


God bless Judge Brown!
Bless us all as we get older, God.
Help me not to stop, not to complain,
not to focus on aches and pains.
Please, Lord, keep me active,
keep me interested,
keep me faithful to You.
Let me not give advice where none is needed.
Please keep me living in the present
and not in the past.
Let me see, let me hear, and let me listen.
Let me not judge others,
as that is not my duty.

Let me always live in Your service
protected in Your loving care.
Please, Lord, keep me active as years pass.
Keep me interested,
Keep me focused on what I can do,
not on what I cannot do,
keep me faithful to You.
And, yes, dear God, bless Judge Brown.
He must be with You now.
Amen


Image Ownership Credits
Next Prayer
Prayer Index
Website Home
(c) 2011 Donn B. Murphy
Contact - Comment - Question? - dbm@nowstar.net