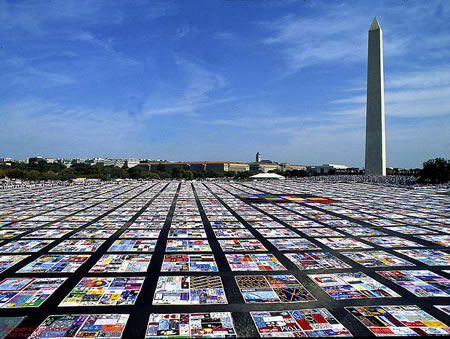 THE NAMES QUILT
The NAMES Quilt is an arresting expression of the reactions and attitudes of many thousands of people toward death. Each section is made up of many individual panels.

Courage, laughter, grief and rage are stitched together here in the drawings, personal mementos, scraps of poetry and bits of philosophy with which people try to understand loss, come to terms with grief, and recover hope.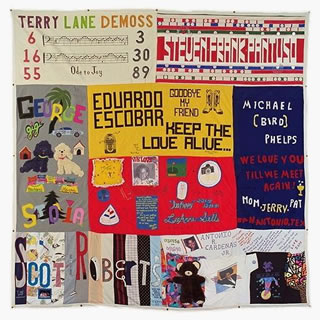 The attitudes of near-death victims themselves, were reported by Newsweek Magazine in August of 1987:

"Life doesn't stop here."

"People gave me strength and courage."
"God gave me a wonderful life."

"Death must be as beautiful
as a garden full of flowers."
"It's time now. I'm going to a better place."
"I always had a good life."
"Where there is love, there is no death."
"This is a fact of life. Forget the tears."

"It takes getting in touch with mortality."
"I'm looking at both life and death as an adventure."
"I feel very calm
in letting go like this with dignity."
"Death is another door.
Life is a door, death is a door."
"I'll do what I can and not worry about the rest."
One man wrote to his partner:
"If you should go before me, walk slowly
down the ways of death, well worn and wide,
for I would want to overtake you quickly
and seek the journey's ending by your side.

I would be so forlorn not to descry you
down some shining highroad when I came.
Walk slowly, my love, and often look behind you;
and pause to hear if someone calls your name.
It will be me."

Stephen

--Washington Community Center Newsletter,
January, 1989
Image Ownership Credits
Next Prayer
Prayer Index
Website Home
Contact - Comment - Question? - dbm@nowstar.net