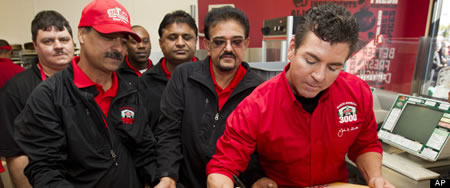 PIZZAS, PENNIES AND PAPA JOHN
Dear God,
You know this history:
At the age of 22, in 1983, the industrious,
young, John Schnatter started delivering pizza out of his father's co-owned tavern
in Jeffersonville, Indiana.

In the same year, John sold his 1971 Camaro Z28 to purchase the other half of the tavern
which became his family's first
"pizza place."
With hard work, remarkable vision, extraordinary organizations skills and wise business decisions, Mr. Schnatter built
an enormous network of locally-owned franchises. In 2009 he bought his Camaro back, for $250,000.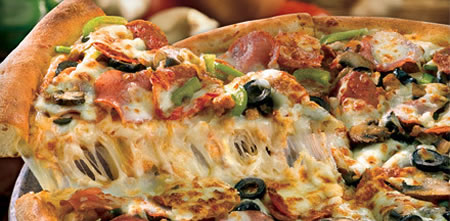 By 2012, the Papa John's franchise had 3,500 restaurants in 50 states and 30 countries, with about 25 people employed at each store - a workforce of some 87,500 people.
Mr. Schnatter complained that year that he didn't want to give his full time workers "Obama Healthcare" because to do so he would
have to raise the cost of his pizzas
11 to 14 cents each. He threatened to cut back full-time workers' hours so as not to have to provide them with healthcare.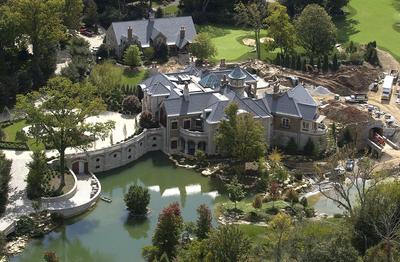 You know, God, that In 2012, John Schnatter was 50 years old, and his net worth was reportedly $240,000,000. His (main) home
is a 40,000 square-foot mansion.
Thank you for bringing this man to his senses, through an exposure of his excessive
self-interest. May the revision
of his thinking lead to permanent increased respect for the needs of his employees, and to a more just and generous attitude on his part
with respect to fair wages and ethical profits.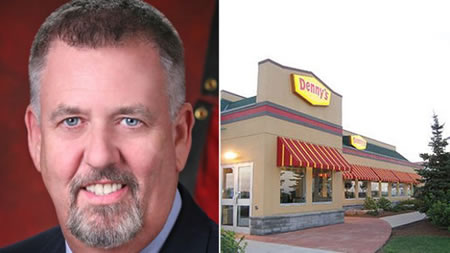 Thank you, Lord, too, for softening the heart
of Florida-based businessman John Metz, owner of 40 Denny's franchise (and other) restaurants. In 2012, he announced
his intention to add the cost of healthcare insurance as a surcharge shown on customers' checks – suggesting that diners may want
to deduct the amount from the tip which they might otherwise leave.
He also planned to cut full-time employees hours, in order to avoid paying the health tax. "It's going to force my employees
to go out and get a second [part-time] job" ... and continue to be uninsured.

Having recanted their heartless positions,
Mr. Schnatter and Mr. Metz might well investigate the business model of Dick's Drive-In, a small chain which has been operating profitably in Washington State since 1954 - that's 7 years before John Schnatter was born.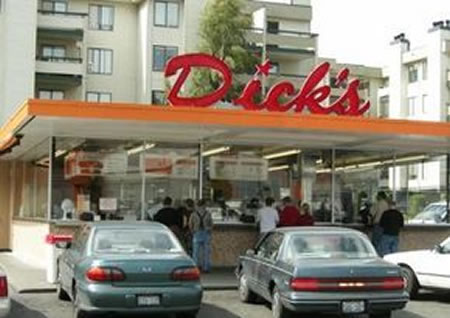 Dick's pays employees a minimum of $10.00 per hour to start (well above the current minimum wage). Merit raises can increase the wage
to $10.50 per hour within three months.
Dick's offers 100% employer-paid health
and dental insurance to every employee
who works at least 24 hours per week
(more than 75% of their employees). Employees are offered vocational/self-improvement scholarships up to $22,000 over 4 years
to employees working 20 hours per week
for at least six months and continuing
to work at least 20 hours per week while attending school.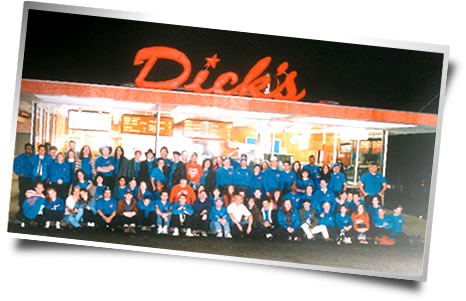 Childcare assistance of between $3,000-$8,000 per year is available to employees working
20 hours per week for at least six months,
and continuing to work at least 20 hours
per week while receiving childcare assistance.

A community service benefit encourages employees to help local charities: Dick's pays employees their regular hourly wage
for up to 4 hours per month of volunteer time.
Please, God, bless the owners and workers
at Dick's restaurants! Let them be a model
to others nationwide.
Help me feel solidarity with Papa John's
and Denny's employees, and give me more brotherly love for Papa John Schnatter
and Denny's John Metz. I pray that they change
their begrudging attitude toward their employers in all respects and put people above excessive profiteering.

I pray that the negative publicity they engendered will give them an increased respect for working people, and make them future champions for the least-paid workers in the food industry.

All this I pray in hope and charity to You,
God of all workers, and employers,
Amen

The 25 Largest Houses in America,
including Mr. Schnatter's, the 14th largest
Image Ownership Credits
Next Prayer
Prayer Index
Website Home