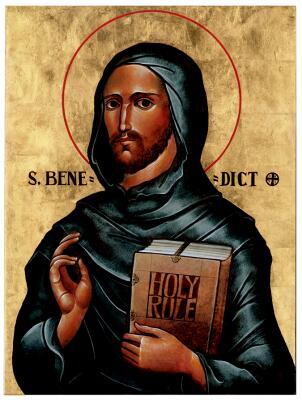 SAINT BENEDICT
Dear St. Benedict,
Your very name - Benedict - means blessing.
You, and your sister Saint Scholastica - whose name means scholarship - have both been great educational influences and blessings
in my life.
You, Benedict, had the courage and the vision
to establish an order of monks
which flourishes and serves today
across the world.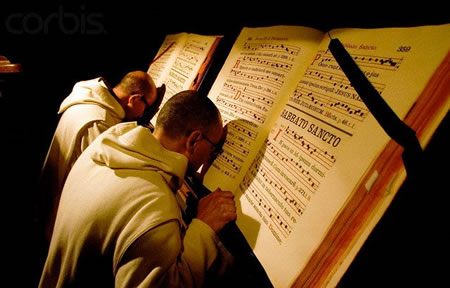 Ore et Labore was your motto:
Pray and work.

May God bless all your humble monks
and priests across the world
who are committed to some manual labor
each day be they preacher, theologian,
bishop or cardinal.

The theology teacher might hoe the garden,
and the monastery's abbot might sweep
the hall.
Your holy sister, Saint Scholastica,
likewise established a religious order,
of dedicated and talented nuns.
May God bless those sweet sisters as well.
Through the grace of Our Lord many Benedictine monasteries and convents are now serving the world.
May they thrive in peace and holiness
this day, and across all time.

Your servants faithfully follow the Rule
you wrote for them, rising before dawn
to pray, and bringing education, help, solace and God's grace to many people.

Please, Benedict, ask Our Father to join me in spirit with all those good works and fervent prayers.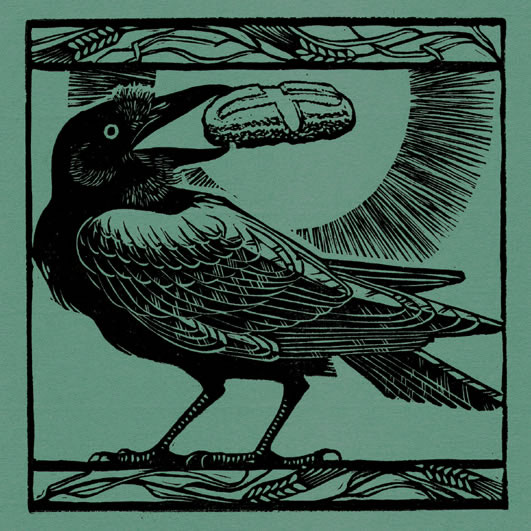 Our Lord once sent a raven to snatch
from your hand a poisoned loaf
meant to kill you.
Protect me now, please, Benedict,
snatching from me all evil thoughts, angers and jealousies, as well as all the poisonous temptations of life.
Please pray to God for me your loving oblate,
as you prayed for the brothers in your many monasteries.
Let me, like your Benedictines, take up
with humility some humble manual labor
each day, and always dedicate my work,
my prayers and my very life to the God
you served so faithfully, in union with your monks and nuns all over the world:
Ore et Labore: pray and work!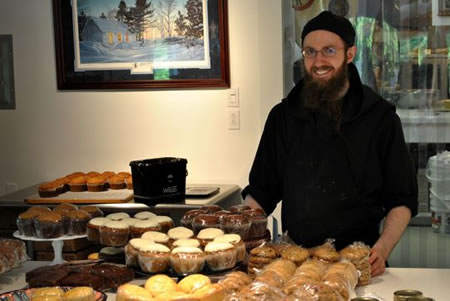 I pray you, God, to bless me
and all Benedictines and hold us hidden
in the Abbey Your Sacred Heart,
safe from the poisons of materialism, doubt,
despair and depression and every other worldly evil.

May my prayers rise to You in heaven,
joined with with those of the many Benedictine monks and sisters all over
the world, like clouds of purifying incense before Your throne.

Father Benedict, please consider me still your son and always be my friend, guide, patron and advocate in the heavenly court
of our King, Lord Jesus Christ.
All this I pray to you, good saint,
in the name of God our Savior,
Amen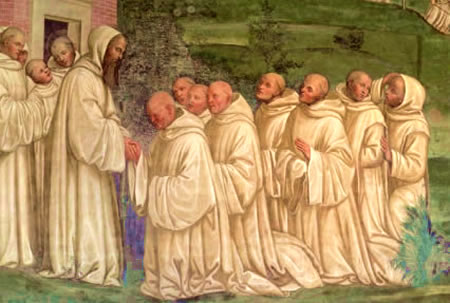 Benedict was born around 480 in Nursia, Italy. Studying in Rome, he was outraged at corruption there. For three years he lived
as a hermit in a mountain cave near Subiaco. Disciples sought his guidance, and Benedict then organized a small religious house. Subsequently, he founded the great Monte Cassino, one of the greatest monasteries in Europe.
Benedict's famous Rule, was adopted by his twin sister, Scholastica, who founded
a convent for women. During his lifetime, Benedict's Rule guided twelve monasteries which he led over the course of eighteen years. He died in 547.
Monte Cassino is a strategic point from
a military standpoint, and as a result,
the Monastery has been destroyed repeatedly in wars, most recently in 1944.
Image Ownership Credits
Next Prayer
Prayer Index
Website Home
(c) 2011 Donn B. Murphy
Contact - Comment - Question? - dbm@nowstar.net