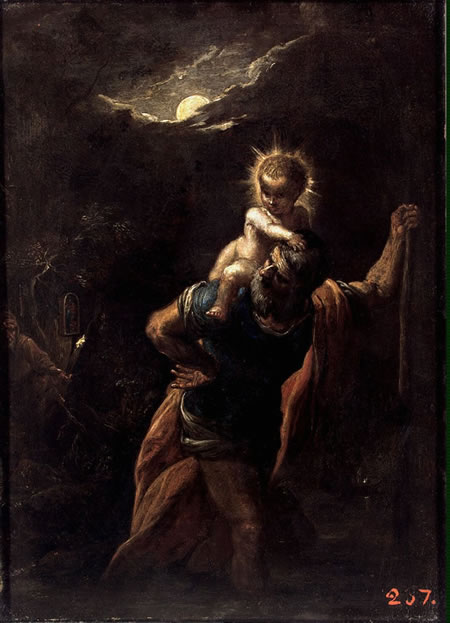 SAINT CHRISTOPHER - SAFE TRAVEL

You, Christopher, were the trusty watchman
at the river crossing that night, surprised
in the darkness of a raging thundering storm
to see the tiny radiant Christ Child, Jesus,
haloed in brilliance, standing at the doorway
of your humble bank-side hut,
glistening raindrops beading down
His innocent face.

As lightning flashed and thunder crashed,
the tiny Child-God sought your help to cross the surging waters.

Unhesitating, you threw on your cloak, grasped your sturdy staff and went out
into the fearsome night.

Hoisting the Holy Child upon your shoulder you waded bravely into the black and swirling waves, your way lit only by flashes
of lightning.

Deep to your waist, crossing on slippery stones, you made your way slowly across
the roaring, turbulent torrent,
thunder shaking the heavens,
as you carried the Child Jesus safely
to the far shore.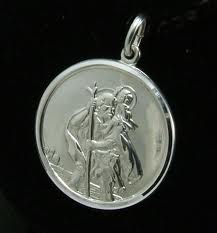 Your story has been told now for seventeen centuries. You are a traveler's hero,
your deed emblazoned on countless medals
blessed by holy waters in many lands.
We place them in our luggage,
and secure them in our automobiles
as talismans of your heroism
and as pleas for that same safe assistance
which you gave the Child Jesus
in that midnight thunderstorm so long ago.
Brave Christopher, may our prayers ascend
in tribute to the lesson of your legend,
and in thanks for all heavenly help
to travelers on the Road of Life,
whose footing slips in dark storms
of loneliness, disbelief and confusion,
or on paths of daunting moral temptations
in a challenging world.

Surely the Child Jesus still blesses all
the generous souls who lend assistance
to their fellow wayfarers - each earthly Christopher-Christ-Bearer who aids another through the thunder-bolts
and lightning strikes of life.

Let us all then be Christophers!

And let us all thank Christophers,
as we make our way hand-in-hand together through the darkness of temptation,
across myriad raging rivers of sin,
to sublime safety with the Child-God
awaiting us on a brilliant heavenly shore, with outstretched arms of welcome
to eternal sunshine.

Amen

Note: Pope Paul VI removed his feast from
the calendar of the Roman Church to make room for more recent saints.
Image Ownership Credits
Next Prayer
Prayer Index
Website Home
(c) 2011 Donn B. Murphy
Contact - Comment - Question? - dbm@nowstar.net