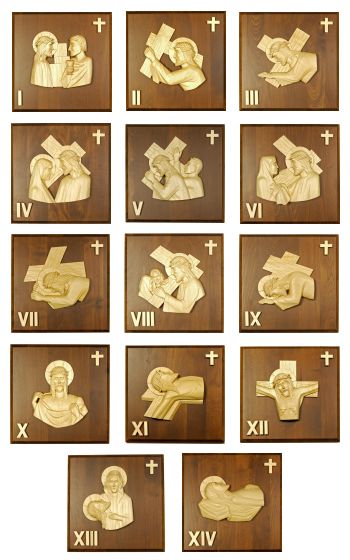 THE STATIONS OF THE CROSS

THE FIRST STATION
JESUS IS CONDEMNED TO DEATH
Jesus, You, the Creator of all life
stand all alone in the court of Pontius Pilate. You wear a ragged bloody cloak
and a crown of thorns.

No one defends You, the Lover of all mankind.

You, the Source of all Knowledge and Wisdom
remain silent.

You who miraculously fed thousands
with loaves and fishes now stand alone
and deserted, the Defendant in a trumped-up political trial, now condemned
to a cruel, ignominious death.

Give me the courage to stand up for You,
to come to the defense of Your children
in need.
Let me be grateful for all You have done
for me, especially what You did in that
long-ago day in the kangaroo court
of Pontius Pilate.

My Jesus,
often have I signed Your death warrant
with my sins. Save me by Your sacrifice
on the cross from that eternal death
which I have so often deserved.
I beg your forgiveness.

THE SECOND STATION
JESUS TAKES UP HIS CROSS
Jesus, as You shouldered Your cross,
You knew that You were condemned to carry it
to Your death on Calvary for the salvation
of the world.

You knew how painfully heavy this burden of sins would be but You accepted
the unconscionable journey in silence.
Strengthen me, Lord, to accept the little crosses in my life without complaint
and without self-pity.

Suffering Jesus, I know that my grievous personal sins added to the crushing weight
of that cruel cross.

Accept now my tears, my regret,
and my determination to not sin again.



THE THIRD STATION
JESUS FALLS THE FIRST TIME
As the burning sun beats down, the weight of the cross You bear becomes heavier
and heavier and heavier.

Your back is raw and bleeding. Your muscles ache. You are weak and almost ready to faint,
and finally you fall down into the dusty street.

No one moves to help you stand.
Unfeeling soldiers curse You and demand
that You get up and start moving again.
My Jesus, the crushing burden of my sins falls on You, and bears You down beneath
the cross.

I now loathe my sins. I detest them.
I beg You in the dusty sun of that long ago street to pardon them and wash them away
in Your tears and Your sweat.

Help me never to sin again.


THE FOURTH STATION
JESUS MEETS HIS SORROWING MOTHER
Jesus, King of all Creation,
You are alone in a vicious mob,
You are scorned and cursed.

Then You see Your mother, Mary.
She can't take away Your pain,
but her compassion gives You
renewed strength, even as her sorrow adds
to Your own.
When challenged by life, please help me remember that I cannot do it all alone.
Keep me aware that You are always there on my journey if I but look up and call Your name.
Jesus most suffering, Mary Mother most sorrowful, my sins have surely caused You anguish in the past.

By God's assisting grace let that be no more.
Rather, please be my love and protection
henceforth until my final hour.


THE FIFTH STATION
SIMON OF CYRENE HELPS JESUS CARRY HIS CROSS
Jesus, the soldiers now become impatient.
This uphill journey is taking longer than they planned.

They are afraid You won't make it to Calvary Hill where you are to be crucified.
As you grow weaker, they roust a man
out of the crowd and force him to help You carry Your cross.

Simon of Cyrene, an innocent bystander,
in an instant becomes the only one
helping the Lord of all Creation
shoulder the crushing burden of the cross.
Please help me to be always ready
to help another person in pain.
Let me never pass by a stranger in need
without stopping to help.
My Jesus, blessed and long remembered is Simon who helped You bear the cross.
Help me patiently bow my back
to shoulder the crosses that You may send into my life.

My suffering Jesus, please give me the grace,
the courage and the fortitude to do so.


THE SIXTH STATION
VERONICA WIPES THE FACE OF JESUS
Jesus, suddenly the loving lady Veronica
steps out of the crowd.

Her caring face is masked in agony.
She removes her veil and with it wipes
the blood and sweat from Your face.

She can't do much, but she offers You sympathy and solace and dignity.
Help me stop out of the crowd
when someone needs attention or nderstanding.

Give me the perception to see the need before I am asked, and the courage to reach out
and help where I can.

Suffering Jesus, whose image was limned
in blood on the veil with which the virtuous Veronica wiped away Your sweat and blood,
please imprint in the deepest sanctuary
of my soul the lasting memory of Your bitter sacrifice and the glorious promise of Your Resurrection.


THE SEVENTH STATION
JESUS FALLS THE SECOND TIME
Again you fall bruisingly into the dust
on the rocky road. This is the second time you have fallen on the road. As the cross grows heavier and heavier it becomes
more difficult to stand again.

But you continue to struggle and try
until you're up and walking again.
You don't give up.
Give me the strength each day to rise up again to every challenge and to Your service.
Let me not worry about inconsequentials.

Keep me looking forward, my eyes
on the eternal prize.

Help me not fall or fail in my love
and dedication to You.

THE EIGHTH STATION
JESUS MEETS THE WOMEN OF JERUSALEM
Jesus, still carrying the crushing burden
of the cross You see a group of sympathetic women of Jerusalem.

You stop to spend a moment with them,
to offer them a blessing.

Although abandoned by Your friends
You stop to bless these wise women.

Let me always be willing to offer solace
to those in need.

Help me live my live like a Jesuit
"for others."

Let no one be a stranger to me,
and let me not be so self-preoccupied
but rather to think more about others.

Help me remember that others have problems, too. Help me respond to them even when I'm busy or preoccupied with my own problems.
My Jesus, Who comforted the pious women
of Jerusalem who wept to see You bruised
and torn, comfort my soul with YHour tender pity, for in Thy pity lies my trust.

May my heart ever answer Yours.


THE NINTH STATION
JESUS FALLS THE THIRD TIME
Jesus, your journey has been long.

You fall again, beneath your cross.
You know your journey is coming to an end.

You struggle and struggle. You get up
and keep going.
Like a child, sometimes I fall and fail
time and time again. I make the same mistakes over and over.
Sometimes I'm not honest, sometimes I'm lazy. I'm tempted to stop trying.
It seems just too hard sometimes.
I occasionally feel that I should have conquered my weaknesses by now. I become discouraged when I'm confronted by the same problems over and over again. Sometimes I get weary. When I have health problems, I can become discouraged and depressed.
Help me think of the cross You carried.
Help me continue to hope that I can make
the changes in my life I need to make.

You didn't give up. I can have the strength to get up again as well.
My Jesus, by all the bitter woes You endured when for the third time the heavy cross bowed You to the earth, never, I beseech You,
let me fall again into sin.

My Jesus, rather let me die
than ever offend You again.


THE TENTH STATION
JESUS IS STRIPIED OF HIS GARMENTS
The soldiers notice You have something
of value. They remove Your cloak and throw dice for it.

Your wounds are torn open once again.
Some of the people in the crowd mock You. They tease you and challenge You to perform
a miracle for them to see. They're not aware that You will perform the greatest miracle
of all!
Somtimes I repeat stories that are disrespectful of others. I can entertain thoughts that are not clean.
Help me to keep myself pure in mind.

Help me say things that sujpport the people around me. Help me overcome worldly desires so that I may become more like Jesus. Help me set a good example for others to follow.
My Jesus, stripped of HYour garments and drenched with gall, strip me of love for things of earth, and make me loathe all that savors of the world and sin.


THE ELEVENTH STATION
JESUS IS NAILED TO THE CROSS
You are stretched out on the cross which You have carried so far. The soldiers drive huge nails into Your hands and feet.

You feel abandoned by the people You loved
so much. People seem to have gone mad.
You have done nothing but good, yet they drive nails through Your hands and feet.
Sometimes I discriminate against others.
Even without thinking, I judge others because of their color, intelligence, income level
or name.

I forget that I am to live as a brother or sister to all people.
Help me look again at the people around me. Help me see the hurt and pain I have caused in others. Be with me to help me make amends for the harm I have done.
My Jesus, by Your agony when the cruel nails pierced Your hands and feet and fixed them
to the cross, make me crucify my flesh
by Christian penance.

THE TWELFTH STATION
JESUS DIES ON THE CROSS
Jesus, as You hung on the cross, You forgave the soldiers who had crucified You,
and prayed for Your mother and Your friends. You want to live forever with You in heaven, an You made the ultimate sacrifice for usus.
Jesus, let me consider Your love for me.
Help me thank You for Your willingness
to go to Your death for me. Help me express my love for You!
My Jesus, three hours You hung in agony,
and then died for me. Let me die before
I sin, and if I live, live for Your love
and faithful service.

THE THIRTEENTH STATION
THE BODY OF JESUS IS TAKEN DOWN
FROM THE CROSS
Jesus, how brutally you were put to death, but how gently You are now taken down.

Your suffering and pain are ended, and You are put in the lap of Your mother.
The dirt and blood are wiped away.
You are treated with love.
I seem to be kinder when someone dies.
If only I could learn to see the good things about them while they were alive.
If only I would tell those around me
how much I love them, while I still have
the opportunity to do so.
Help me look for the good in those around me, especially those I love the most.

Help me live this day as if it were the last. Help me become a more gentle and loving person through my greater appreciation for those around me.
O, Mary, Mother most sorrowful,
the sword of grief pierced your soul
when You say Jesus lying lifeless
on your bosom.
Obtain for me hatred of sin because sin slew your Son and wounded your own heart,
and give me grace to live a Christian life and save my soul.


THE FOURTEENTH STATION
JESUS IS LAID IN THE TOMB
Jesus, Your body was prepared for burial. Joseph of Arimathea gave You his own cave tomb. He laid Your body there and had the entrance sealed with a large stone. So ended a sad day of expiation.
Help me think of Joseph of Arimathea,
who risked his own life as he accepted Your body for burial. Help me remember how Joseph loved You so much that he gave You
his own tomb.
My Jesus, beside Your body in the tomb,
I, too, would rather lie dead that live
to commit another sin. Let me live for You,
so as one day to enjoy with You in heaven
the sweet fruits of Your sad passion
and Your bitter death.
CONCLUSION
Dusk falls, on Crucifixtion Friday,
followed by terrible storms and an ominous night of black sorrow.

Then by first light of dawn, a peaceful calm prevails. A new day, and a new epoch of Son
and salvation is about to dawn.

The Easter glory of the Resurrection
is soon to come.

Sorrow and sadness will be replaced rejoicingd and rejoicing.
The reign of King Jesus, God Almighty
and Eternal, is about to begin.

Hallelujah!
Amen
Historical note:
Out of the fourteen traditional Stations of the Cross, only eight have clear scriptural foundation. Stations 3, 4, 6, 7, and 9 are not specifically attested to in the Gospels (in particular, no evidence exists of station 6 ever being known before medieval times) and Station 13 (representing Jesus's body being taken down off the cross and laid in the arms of his mother Mary) seems to embellish the Gospels' record, which states that Joseph of Arimathea took Jesus down from the cross and buried him. To provide a version of this devotion more closely aligned with the biblical accounts, Pope John Paul II introduced a new form of devotion, called the Scriptural Way of the Cross on Good Friday 1991. He celebrated that form many times but not exclusively at the Coliseum in Rome. In 2007, Pope Benedict XVI approved this set of stations for meditation and public celebration. I suspect that until or if they are require to do so, most churches will retain their 14 carved, chiseled or painted artworks representing the stations. Many, of course, have been reverenced in devotions for many hundreds of years.


Donn B. Murphy, based loosely on the Stations
from Catholic Online
Images
Next Prayer
Prayer Index
Website Home
Contact - Comment - Question? - dbm@nowstar.net