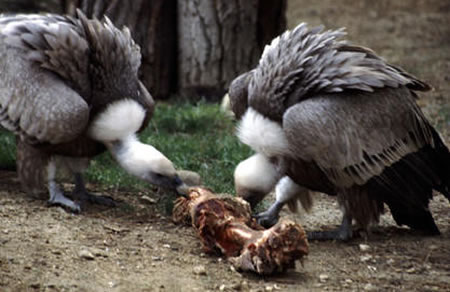 ANIMAL CANNIBALS
God of All Creatures,
As You know, Lord, cannibalism is a common ecological interaction in the animal kingdom and has been recorded for more than 1500 species. It does not, as once believed, occur only as a result of extreme food shortages
or artificial conditions, but commonly occurs under natural conditions in a variety
of species. Cannibalism seems to be especially prevalent in aquatic communities, in which some 90% of the organisms engage in cannibalism at some point of the life cycle.
This seems an especially cruel fact
of nature, but a stark differentiator between mankind and beasts, although in some rare
or cruel circumstances humans have in fact eaten humans.
You gave man dominion over all the animals.
I vow to treat them always with dignity
and kindness.
Thank You, Lord, especially for species
which serve us in many ways, especially dogs, "Mankind's Best Friends."
We, ourselves, we are infinitely fortunate and favored to have been given human faculties, intellect, and most especially a human will an d an eternal soul,
and the opportunity to live
in sublime happiness with You and Your saints forever and forever.
Amen

Image Ownership Credits
Next Prayer
Prayer Index
Website Home
(c) Donn B. Murphy 2012
Contact - Comment - Question? - dbm@nowstar.net