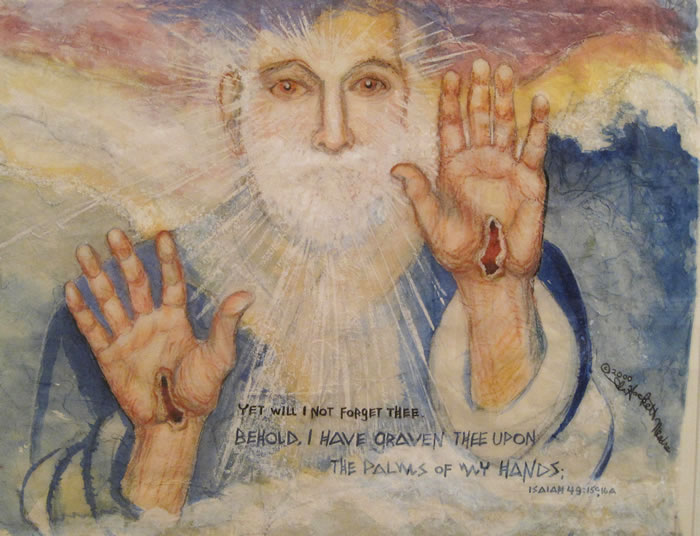 Yet will I not forget thee

BEHOLD, I HAVE GRAVEN THEE
UPON THE PALMS OF MY HANDS
Dear Father God, Holy Spirit, Jesus Son,
All in One united from all eternity,
I pray to You this day.

Your disciple doubting Thomas insisted
that he must "place his fingers within
Your wounds," to prove to himself
that You were the Risen Christ God.

Let me never doubt the reality
of Your Infinite Divine Being,
the agony of Your human suffering,
or the generosity of Your saving sacrifice
made on the Cross for all human souls.
Lord, bless me with those wounded, upraised hands, ripped open and bleeding for mankind's redemption on the Calvary hilltop.

Guide my hands and my mind to do Your work
in the world, never injuring any person
or creature of Yours intentionally
or unintentionally.

Hopefully, I raise my hands and my heart
in praise and love to You, Christ, my Jesus.

Make me worthy to see Your Sacred Hands
one day outstretched to forgive me, bless me,
and welcome me to paradise.

Then may I clasp and kiss Your blessed
healed palms.

Finally, Jesu Christi, please hold me fast eternally and never ever let me go.
Amen

Image Ownership Credits
Next Prayer
Prayer Index
Website Home
(c) 2011 Donn B. Murphy
Contact - Comment - Question? - dbm@nowstar.net