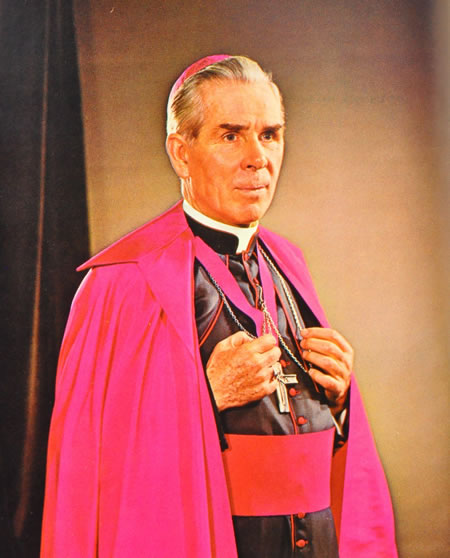 ARCHBISHOP FULTON J. SHEEN
Dear Bishop Sheen,
You began broadcasting on "The Catholic Hour in 1928, before I was born, immediately becoming a radio sensation, winning a TV Emmy Award, appearing on the cover of Time magazine, and being placed on the list
of "Most Admired Americans." In its second year your program, "Life Is Worth Living," moved to television and became a nationwide sensation. No religious preacher has since commanded such large weekly television audiences.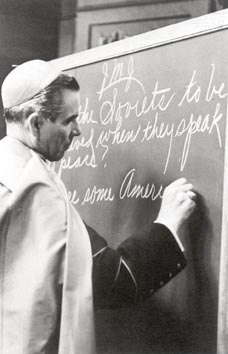 I remember your programs and I know that you used no cue cards or visuals, your only props being a blackboard, a desk, and a statue
of the Madonna and Child. Your humor, charm, intelligence, and considerable acting skills captivating audiences in the millions as you gave answers to life's challenging problems.
You were an emissary from God to your large television audience. I pray you now to be
an emissary from me to God. Please beg God
to forgive my many sins, and ask him to send me great graces so that I may not sin again.
Please beg for me the grace to be wise, holy, optimistic and prayerful as you were yourself. Let me, too, in some small ways, influence others toward a life of prayer
and goodness.
All this I pray to you in heaven,
in the Name of Our Beloved Lord,
Jesus Christ.
Amen
With appreciatio to, and inspiration from,
http://norprov.org/spirituality/ignatianprayer.htm
Image Ownership Credits
Next Prayer
Prayer Index
Website Home