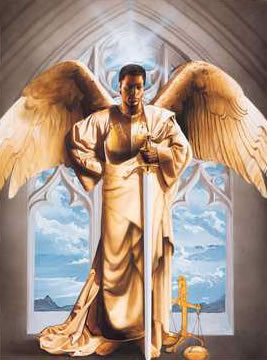 GUARDIAN ANGEL
Angel of God, my guardian dear,
to whom God's love commits me here,
Ever this day be at my side
to light, to guard, to rule and guide.
Companion and counsel, hero, friend,
lead me forward to life's good end.
Shield my eyes and ears from sin
Protect my soul which shines within.
Keep me upright and standing tall
guiding my my steps that I do not fall.
Keep bright the lamp-light of virtue within
that I be not victim to slavery and sin.
Keep me aware of others in need
for whom I might easily do a good deed,
true to the medal that hangs at my neck
and keeping my vanity always in check.
Hold back my tongue from injuring speech
and make sure I practice whatever I preach.
Then give me peace at the end of the day
and keep every evil temptation away.
Shelter my soul from Satan's cruel sway.
And keep me secure in God's mercy, I pray.
Hold me in safety throughout the dark night.
and wake me at dawning in morning's safe light.
Please let me never stand lost and alone
but lead me in safety to God's holy throne.

All this I pray, strong Angel above,
guarding and guiding my life with your love,

Amen

Image Ownership Credits
Next Prayer
Prayer Index
Website Home
Traditional with additional verses
© 1987-2012 Donn B. Murphy
Contact - Comment - Question? - dbm@nowstar.net