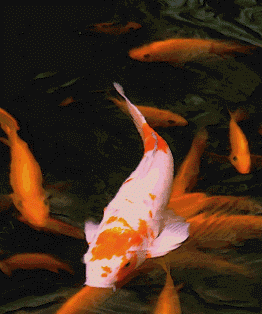 LONG-LIVED KOI
Dear God of all nature,
The Royal Koi swimming in the moat
of the Imperial Palace in Japan are reputed
to be 100 or more years old. Experts estimate that koi can live for several hundred years.
One imagines a very boring existence
with so little to do but swim about endlessly, endlessly, endlessly...
Perhaps we are lucky that You have given most human fewer than 100 years to "swim around."
First, God, let me thank You for the beauty
of these fish. Then let me pray for divine
inspiration, so that my life is not
an endless round of meaningless activities,
"swimming in circles," but a vibrant life
of insight, prayer, meditation, kindness
and proactive charity.
Let the koi remind me always of the beauty
of the world which you have given us:
an infinitesimal glimmer of the endless joys and beauties of eternity with You.
Please, Lord, help me focus on that eternity, and let me live to the best
of my ability and power, a life of integrity and worth.
All this I pray to You, my Creator,
and my Redeemer.
Amen
o o o o o o o o o o o

Image Copyright Details
Next Prayer
Prayer Index
Website Home
(c) 2012 Donn B. Murphy
Contact - Comment - Question? - dbm@nowstar.net