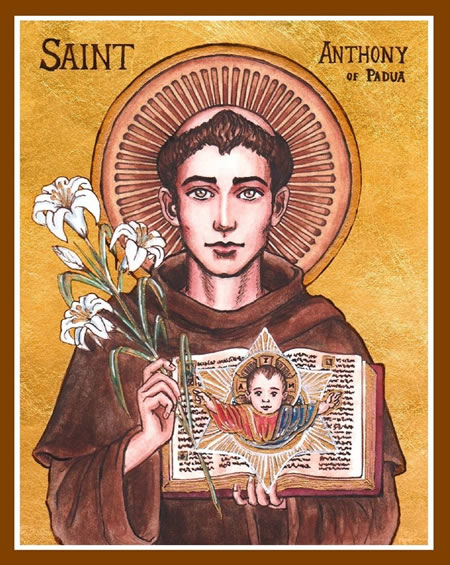 SAINT ANTHONY OF PADUA
Holy Patron, pray for me,
And teach me ever to follow thee.
Ever this day be at my side,
To light, to guard, to rule and guide.

Amen
SALUTE TO SAINT ANTHONY
I hail you, St. Anthony,
remembered for your pure heart
and the glory you bring to the Church.
I salute you, great saint, man of wisdom
and spirit of divine love.
Please walk ever at my side,
defending me from evil,
and guiding me toward good.
I celebrate the many favors
which God gave you.
With humble confidence I ask your help,
knowing that Christ has given you charity
and grace, as well as power.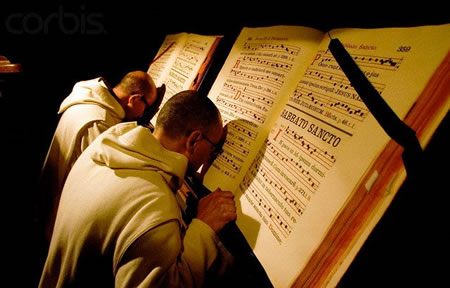 See my distress, my anxiety,
my fear for the safety of my soul.
I ask you, by the love you feel
for the little Jesus you held in your arms
to tell Him now my wants.
One word from you will crown my success
and fill me with joy.
You who have heard His voice,
please secure for me His promise of peace.
If I could see you, my tears would tell
my fears. But since to see you is not granted, I join you in spirit and lift
my heart to you, full of fear, but full
of hope. Please raise it onward
up to heaven, for I trust that He
who put Himself in your arms
will fill your hands with all I ask.

Win what I desire, gentle champion of love,
and I will publish your glory to honor
the Lord that blesses us both with victory.
Amen
© 1965 Donn B. Murphy

PRAYER TO MY PATRON SAINT
St. Anthony, protector true,
I place my confidence in you.
Please plead my needs and cause above
Where Jesus answers you with love.
I'm proud to be your earthly son:
Please help me be a worthy one.
Guide all my steps on stairs of light
And shelter me in dark of night.
Be constantly before my mind
That I may put all doubt behind.
Please, now my weakling will renew
And I will always honor you.
Anthony, my hero, friend,
Protect me to my final end.
Never leave your charge alone,
Guide me to God's golden throne.
Stand by me there and plead my cause,
For I have broken heaven's laws.
But ask that Christ, for love of you,
Forgive your son and lead us to
The Holy Spirit's crystal hall
To praise His name Who made us all.
Amen
(c) 1984 Donn B. Murphy
DAILY PRAYER TO MY PATRON
Holy Patron, Anthony,
Please, I beg you, pray for me.
Walk beside me all this day
Ensuring I not go astray.
Keep my focus on God's love
And on his Promised Land above.
Guard my tongue and guide my feet
and let me practice no deceit.
Show me, Saint, the good in all
Who have been cursed by Adam's Fall.
Keep the Evil One at bay
when I work and When I play.
May I see on every street
Christ in every face I meet.
Thank you, patron, guiding light
Be with me 'til I sleep this night.

Amen
(c) 2013 Donn B. Murphy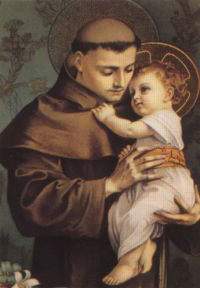 PRAYER AGAINST LOSS
TO THE FINDER OF ALL THINGS
Holy Patron, let me lose nothing today
And let all things missing be regained.
Intercede for me so that I do not lose
my way but find at last the keys to heaven.
Unite my prayer with those of all your suppliants, So that our whispers become one mighty voice Before the throne of God.

I will try to make you proud of me,
your patron servant, and I beg you please keep my hopes-- And my needs--among your own petitions Which surely find great favor
in the court of heaven.
Amen
Traditional


BIOGRAPHY
In 1221 Saint Francis held a general chapter at Assisi. After the others dispersed,
there lingered behind, unknown and neglected, a poor Portuguese friar, resolved to ask
for and refuse nothing.
Nine months later, Fra Antonio rose under obedience to preach to the religious assembled at Forli, Italy, when,
as the discourse proceeded, "the Hammer
of Heretics," "the Ark of the Testament," "the eldest son of St. Francis," stood revealed in all his sanctity, learning
and eloquence before his rapt and astonished brethren.
Devoted from earliest youth to prayer
and study among the Canons Regular, Ferdinand de Bulloens, as his name was in the world, had been stirred by the spirit and example
of the first five Franciscan martyrs, to put on their habit and preach the faith
to the Moors in Africa. Denied a martyr's palm, and enfeebled by sickness, at the age of twenty-seven he was taking silent
but merciless revenge upon himself
in the humblest office of his community.
From this obscurity he was now called forth, and for nine years, France, Italy and Sicily heard his voice, saw his miracles,
which turned people's hearts to God.
One night when Anthony was staying
with a friend in the city of Padua, his host saw brilliant rays streaming under the door of the saint's room, and on looking through the key-hole he beheld a little Child
of marvelous beauty standing upon a book which lay open on the table, and clinging with both arms round Antony's neck. With an effable sweetness he watched the tender caresses of the Saint and his wondrous Visitor. At last the Child vanished,
and Fra Antonio, opening the door, charged his friend, by the love of Him Whom he had seen, to "tell the vision to no man" as long as Antony was alive.
Suddenly, in 1231, our Saint's brief apostolate was closed, and the voices
of children were heard crying along
the streets of Padua, "Our father, Saint Anthony, is dead." The following year,
the church bells of Lisbon rang without ringers, while at Rome, one of its sons
was inscribed among the Saints of God.

Image Ownership Credits
Next Prayer
Prayer Index
Website Home

Contact - Comment - Question? - dbm@nowstar.net