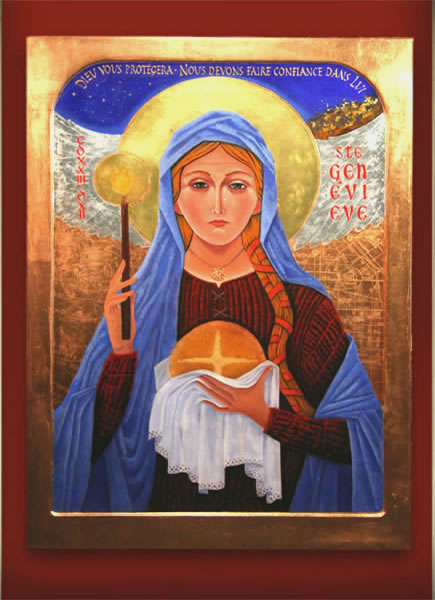 SAINT GENEVIEVE
Dear Saint Genevieve,
We are told that you were born near Paris
in the 5th century, and that when you were only seven, Bishop Germain, later a saint,
saw you in a crowd while preaching
and foretold your extraordinary holiness.

Strong-willed in adulthood, we learn also
that with Attila the Hun marching toward Paris, you convinced the citizens to fast
and to besiege heaven with their prayers,
and suddenly the barbarian turned his armies in another direction, and Paris was spared.
You were a champion for the poor, the sick, the unemployed and the abandoned, and you lived always with clear goals in life
and an unflinching will to achieve them.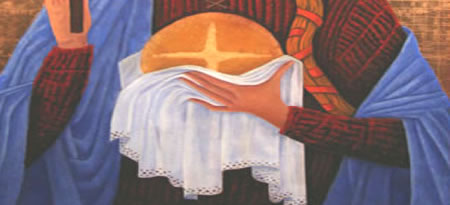 Your icon image shows you with a loaf of bread because you were generous in feeding
those in need. Help me to be generous
to the poor, as you were.

In your portrait you are shown wearing
a medallion symbolizing your consecration
to God.

Let me be reminded often of my allegiance
to Our Creator as well.
You are pictured with a candle which is said in legend to have remained lit as you walked through dark streets to church, even though the devil attempted to extinguish it.
Help me, Genevieve, to keep the candle
of faith always lighted in my heart.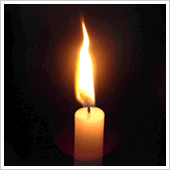 You wore the humble dress of a shepherdess because when you were growing up
you tended to flocks.

Let me remember always my beginnings
and my origins which gave me the character which I have, and the faith which I treasure.
Guide me always to have the strength to follow your good example, and please, Genevieve, intercede for me at the court of Our Lord
and Savior, Jesus Christ.
As you saved Paris, please save me!
All this I pray of you,
Amen

Image Ownership Credits
Next Prayer
Prayer Index
Website Home