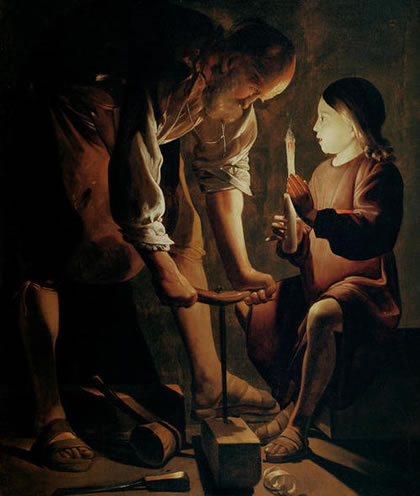 SAINT JOSEPH, CARPENTER
Saint Joseph,
Foster-Father of the Redeemer,
Head of the Holy Family,
please hear my prayer.
Your faith was enormous!
You trusted God's almost inexplicable
and most incredible plan: that your young betrothed virgin, Mary,
would give birth to God Almighty,
in the person of a Man, Jesus Christ,
Who would be the sacrificial Redeemer
of all mankind.
You were a simple carpenter,
surely with calloused hands, always ready to do a good days work in your shop.

You probably had little learning,
but you had great faith,
great trust in God,
and humbly accepted His will,
and the astounding role
which the Lord chose you to play
in the salvation of the world:
Protector of the Messiah,
Provider for the Holy Child,
Parent of the Infant Jesus.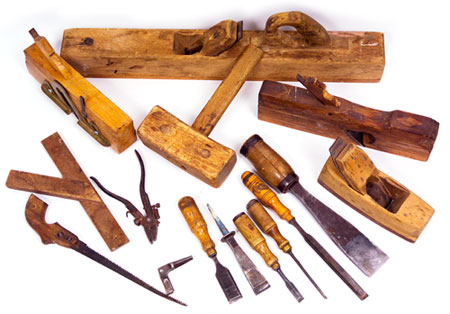 Help me in turn follow your example,
trusting whatever path
God might want me to follow,
whatever role He may want me to play.
Please help me discern His wish for me
and give me strength and endurance
to follow His will in all things.
Saint Joseph, you were chosen
out of all created men
to be the father-protector
of the Holy Family.
You taught the little Jesus
how to use the tools of your trade
how to pray, and how to learn.
You taught God how to be a Man.
You made a home
for your Holy Family.
Please guard our home
and keep all safe within.
Please take me, too,
under your protection.
Let me be as another son to you,
who guided the Holy Child as your Son.
Please take me into your care
and confidence,
and give me your fatherly guidance,
patronage and protection.
You, who died
in the loving arms of Jesus and Mary,
please hear and grant my plea
for a happy death,
embraced by your Son, my Savior,
our God of Eternal Life.

Amen


Image Ownership Credits
Next Prayer
Prayer Index
Website Home
© 1987 Donn B. Murphy
Contact - Comment - Question? - dbm@nowstar.net