Oh, Lord Jesus Christ,
before ascending into heaven
You promised to send the Holy Spirit
to finish Your work on earth
in the souls of Your Apostles
and Disciples.

Indeed the Spirit descended
upon their heads in tongues of fire, inflaming them with Divine love.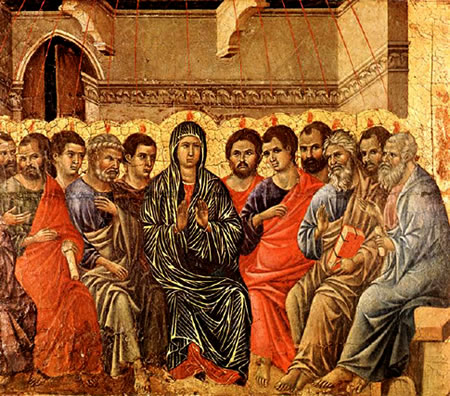 Deign now to inflame me
with the same courage
and with the same Pentecostal Spirit
that my soul may be strengthened
and my spirit perfected for the work
of Your Grace and Your Love.

Please enliven in me now the burning fervor
of the Seven Spiritual Gifts
of the Holy Spirit.




Grant me the Spirit of Wisdom
That I may not be misled
by the perishable things of this world
but rather learn evermore
to aspire to that which is eternal.



Give me the Spirit of Understanding
to enlighten my mind
with the light of Your divine truth
that I may comprehend that
which is without end.



Send me the Spirit of Counsel
opening my mind and heart
to those seeking guidance and reassurance,
hearing with sympathy their problems,
and giving sustenance and hope as wisely
as I can.



Strengthen me with the Spirit of Fortitude
that I may bear my crosses bravely
in this life and that I may overcome
with courage every obstacle
to my eternal salvation.



Enlighten me with the Spirit of Knowledge
that I may know You, understand myself
and grow steadily strong in spiritual knowledge and in the science of the Saints.



Endow me with the Spirit of Piety
that I may humbly find sweet and amiable
my devout fidelity and dedicated service
to You in all things.



Caution me with the Spirit of Fear
that I may be filled with a holy reverence
towards all divine things and may dread
to displease You in any way.



Mark me, please, Divine Spirit,
with the sign of salvation and call me forth
among Your true disciples.
Animate in me all good gifts
with the saving Fire of Your Divine
Eternal love.



Guide me strongly and steadily
that I may ever choose the path to paradise, the surest way of pleasing You
and gaining entrance to heaven.
May I one day at last pass through
the immortal portals of paradise
to abide with You for all eternity.
Amen