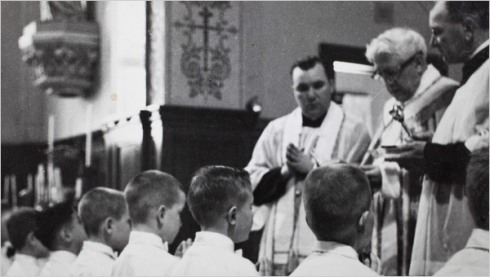 SINNING PRIESTS
Photo: Rev. Lawrence Murphy [on the left, hands clasped]
was a priest in Milwaukee, WI, who served as principal at the St. John's School for the Deaf, 1950–1974.

Murphy admitted to molesting at least thirty boys, and may have sexually abused more than 100, at St. John's, leaving them with a legacy of shame, silence,
and sexual confusion.

Suave, secretive, and Hollywood handsome, he was never indicted, and continued working in parishes and schools, with deaf people, and leading youth retreats
in the Diocese of Superior. He retired, and then died
in 1998. Sadly, he was only one of many, many priests accused with proof of child abuse in the United States and other countries in recent decades.
NY Times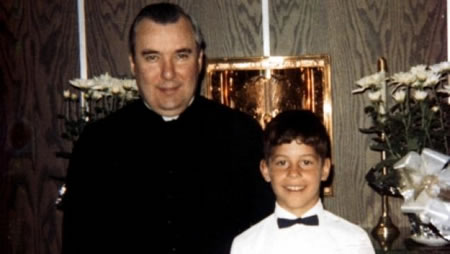 Photo: Father Murphy in front of the tabernacle,
with Pat Kuehn, one the boys he molested.

Priestly abuse of children cases, going back for scores of years, have been uncovered all over the world. Particularly regrettably is the fact that bishops
and superiors of religious orders, not to mention
Pope benedict XVI, engaged in a cover-up rather than openly admitting that these were not only sinful moral failures endangering the lives of children and youth (some of whom suffered mental and emotional damage, some of whom eventually committed suicide), but serious crimes.
Surreptitiously moving the criminals from parish to parish and post to post, the superiors became enablers, complicit themselves in the cover-up and continuity of illicit criminal activities. In one study 32% of abused children later attempted suicide.



Jesus,
I apologize to You in shame for the sinful crimes of some of Your priests and religious brothers in America, Canada, Ireland, Italy
and elsewhere across the world.
I pray for their souls, and even more,
for the souls of their innocent,
damaged victims.
Let my shame and sorrow atone in some small way for the sins of evil clerics who committed grave sins with young boys, laying on them potential lifelong guilt and possibly severe psychological problems which persist
into adulthood.

Your bishops, too, naively or from lack
of moral courage, compounded the problem
by failing to report crimes of child abuse
to police, and by sending offending priest- criminals repeatedly to rehabilitative counseling which did not, ultimately, change
their behaviors, and then assigning them again and again, their records undisclosed,
to one parish or school after another,
where their malfeasance continued.

This reprehensible activity has caused
irreparable damage to the reputation
of Your Church, damage which will persist
for many, many years to come.
Your episcopal leaders put a false reputation
of the Church above the protection
of innocent youngsters, by hiding the repeated malevolence of criminal pastors.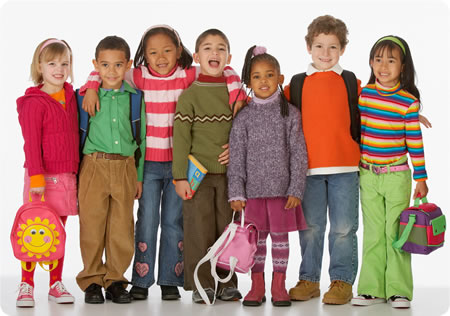 Please, Lord, cleanse our churches,
lift the terrible and unjustified feelings
of guilt from the victims, and prevent errant criminal clerics from harming more innocents
in the future. May their heinous crimes
be atoned for and their shameful sins
be forgiven.

Please bless and invigorate the majority
of priests who had no part in this activity, or in hiding it, and who serve faithfully
in our parishes and schools to this day.

May the souls of all involved, and the souls
of all your faithful, particularly
the victims of these egregious crimes,
be forgiven.

May those who suffered abuse be heard
and healed and hallowed.

May all our children all over the world
now grow up in innocence and joy,
guided by pastors and teachers
of peerless character, surrounded by goodness and protected from evil.

All this I pray in trust to you.
Amen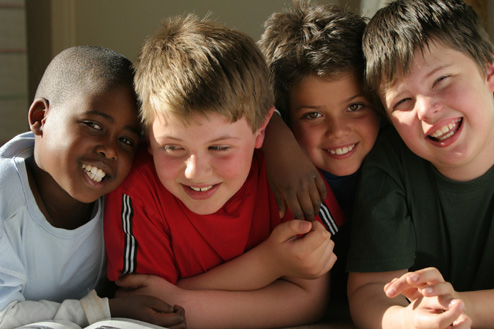 Image Ownership Credits
Next Prayer
Prayer Index
Website Home
(c) 2011 Donn B. Murphy
Contact - Comment - Question? - dbm@nowstar.net