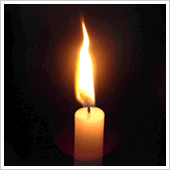 ETERNAL VIGILANCE
Lord God of Lights,
On the eve of your death
You asked of Your apostles in the darkness
of the Garden of Gethsemane:
"Could you not watch one hour with Me?"
Your friends had fallen asleep.
Soon soldiers arrived with torches and ropes
to arrest You and lead You away to torture and to Your ignominious trial
and Your Crucifixion.

Help me, Lord, to remain awake to Your call
and to be ever vigilant for Your coming.
Light lamps of love and loyalty in my heart and help me keep them burning ever brightly.

Where error appears,
let me light tapers of truth.
Where faith is weak,
let me kindle bonfires of belief.
Where hope falters,
let me give encouragement.

Where charity is absent, let me sow love.

We light candles to stand as our surrogates,
commending to You the mystery of fire,
and representing our earnest prayers
and burning devotion.

May my heart burn always with the ardor
of love, as Your own Sacred Heart is revealed to us ringed in thorns of suffering
but burning with love for all mankind.



In the ceremony of Ash Wednesday, I am blessed on my forehead with the mark
and the stark admonition of our mortality: "Dust you are, and into dust you shall return." Let me often ponder that warning
of the brevity of my existence here on earth.

Let me also recall the dark Tenebrae Service
of Shadows on Good Friday weekend,
when the lights in the church
are extinguished as we meditate on sinful humanity awaiting in bitter darkness
for the Light of the World, Our Redeemer,
coming to save us.


Then let my soul be inflamed by the New Fire of Holy Saturday, and the glorious choruses of Easter Sunday: Hallelujah! He is Risen!
You, Jehovah, showed Yourself to Moses
in a burning bush. Let me join my prayers
with those of of Moses, Lord, and with those of all the faithful who who carry candles
and prayers in procession at Lourdes
in France, at Fatima in Portugal,
and at holy shrines and churches all over the world.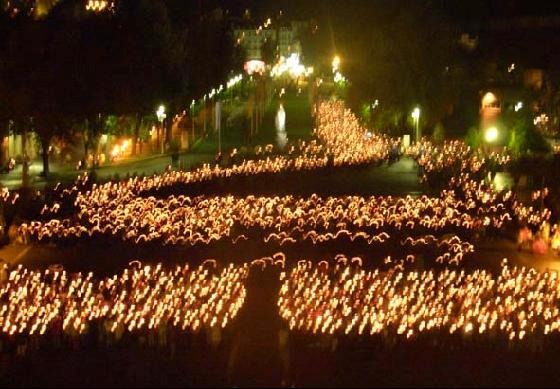 Please light beacon fires in heaven for me, dear Lord! Guide me in my voyage
to the shores of eternity, and save me finally, my Jesus, from the everlasting Satanic flames of hell, that I may be united with You in Your Sacred Heart.
All this I pray with burning ardor,
in Your Holy Name,

Amen

Image Ownership Credits
Next Prayer
Prayer Index
Website Home
(c) 2012 Donn B. Murphy
Contact - Comment - Question? - dbm@nowstar.net